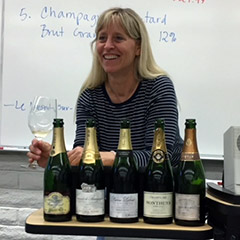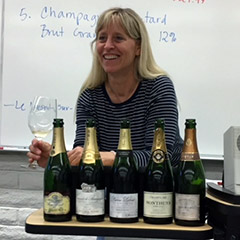 Currently the Culinary Arts department chair at Cabrillo College, Sue has been involved in Culinary Arts for over 40 years. Becoming more deeply involved in teaching wine classes in 2000, she has developed curriculum for three 15-unit wine certificates that will eventually lead to an Associate's program in Enology and transferable to the schools that offer B.S. degrees in enology.
These certificates are:

Wine and Wine Service Certification
World Wines
Tasting Room Management
Her culinary experience is diverse and extensive. After attending Le Cordon Bleu in Paris, she has worked in restaurants and with caterers in Paris and in California. She has owned her own catering business.
Sue has won awards in culinary salons. Sue is a Certified Wine Specialist, French Wine Scholar with Highest Honors, and has a diploma from the Academy of Wine in Spain. She has taught wine classes at Cabrillo College for 18 years. Sue enjoys traveling to France frequently and exploring the French wine regions.
What Sue enjoys most is teaching and sharing the experiences with students and getting them launched in the field that they are most passionate about. That joy of teaching is what inspired Sue to begin this website and online program.