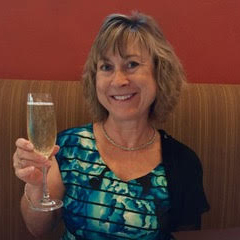 Laurie is a professional wine educator, teaching wine classes and writing content for Wine Ed. Laurie also works in direct-to-consumer sales and marketing for wineries in the Santa Cruz Mountains AVA. She is a regular contributing editor to the Slow Wine Guide USA. In addition, she writes her own wine blog laurieloveswine.wordpress.com.
Laurie is passionate about wine and educating others about wine. In addition to working in the production side of wine, Laurie works as a wine educator at Cabrillo College, for WSET, and through fun and informative wine workshops she teaches in the Santa Cruz area. 
Laurie's wine education began in the Cabrillo College Wine Studies Program.
Laurie's professional wine credentials include WSET Level 3 Award in Wines with Distinction, Certified Specialist of Wine from the Society of Wine Educators, French Wine Scholar with Highest Honors from the Wine Scholar Guild, and Sommelier Level 1 from the Court of Master Sommeliers. Laurie has also earned three Wine Education Skills Certificates through the Cabrillo College Wine Program: Wine and Wine Service Certificate, World Wines Certificate, and Wine Tasting Room Management Certificate. Laurie continues her wine education through San Francisco Wine School, Napa Wine Academy, and through her professional memberships at the Court of Master Sommeliers, Society of Wine Educators, WSET (Wine and Spirits Education Trust), Wine Scholar Guild, and GuildSomm.
Laurie is the author of the following Wine Ed courses: California Wines, Wine and Wine Service, Sensory Evaluation of Wine Varietals, and co-author of the Champagne and French Sparkling Wines course.